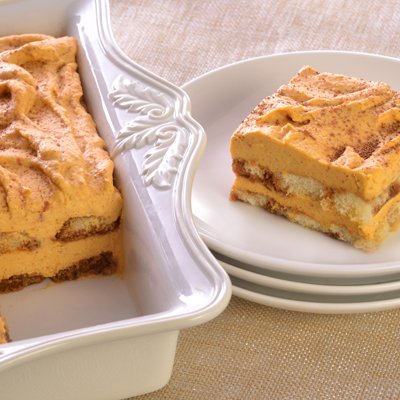 Pumpkin Tiramisu
12 servings, 1/2 cup each
●

1 container (8 ounces) mascarpone cheese*

●

1 cup heavy whipping cream

●

●

1 tablespoon vanilla extract

●

1 teaspoon ground cinnamon

●

1/8 teaspoon ground nutmeg

●

1 1/2 tablespoons NESCAFÉ® TASTER'S CHOICE® House Blend 100% Pure Instant Coffee Granules, dissolved in 3/4 cup hot water, cooled completely or 3/4 cup espresso

●

2 tablespoons coffee liqueur, dark rum or Kahlua (optional)

●

2 packages (3 to 3.5 ounces each) soft ladyfingers, divided
Place mascarpone cheese, pumpkin, cream, sugar, vanilla extract, cinnamon and nutmeg in large mixer bowl. Beat on low to combine ingredients and then beat on high until soft peaks form; do not over whip.
Combine espresso and liqueur in small bowl.
Place half of ladyfingers over bottom of 8-inch-square baking dish. Drizzle half of espresso mixture evenly over ladyfingers. Top with half of the pumpkin mixture. Top with remaining ladyfingers. Drizzle with remaining espresso mixture. Top with remaining pumpkin mixture. Refrigerate for at least 2 hours or overnight. Dust with the cocoa powder before serving. Can be stored, covered, in refrigerator for up to 3 days.