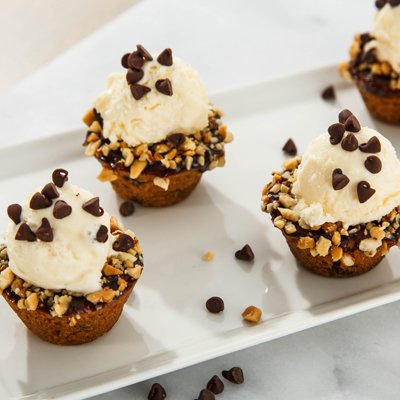 Ice Cream Cookie Cup Delights
These ice cream cookie cup delights are the perfect combination of ice cream and cookies, sure to satisy any dessert craving. A chocolate chip cookie cup, covered with rich fudge sauce and nuts, is filled with your choice of ice cream and decorated with Toppers. This is one dessert that is sure to impress!
TOLL HOUSE®
Refrigerated Cookie Dough
NESTLÉ® TOLL HOUSE® Chocolate Chip Cookie Dough 16.5 oz
TOLL HOUSE®
Morsels and Baking Ingredients
NESTLÉ® TOLL HOUSE® Semi-Sweet Chocolate Mini Morsels 10 oz
3/4 cup hot fudge sauce, slightly warmed

1/3 cup chopped nuts (optional)

2 cups light ice cream (any flavor)
Preheat oven to 350º F. Grease 24 mini-muffin cups. Place one square of cookie dough into each cup.
Bake for 15 to 17 minutes or until golden brown. Cool completely in pan on wire rack. With tip of butter knife, remove cookie cups from muffin pan.
Dip tops of cooled cups in fudge sauce, then into nuts, if desired. Place right side up on serving platter. Spoon ice cream onto cups, using small cookie scoop (#40) or measuring tablespoon. Sprinkle with morsels.