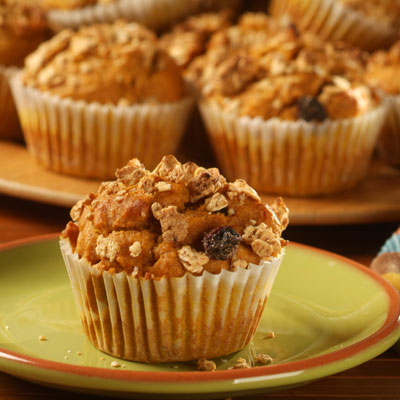 Oh-So-Good Pumpkin Granola Muffins
Oh-So-Good Pumpkin Granola Muffins
Completely delicious Pumpkin Granola Muffins are made with whole wheat flour and granola with raisins. This hearty treat gets a tasty topping when crushed granola, sesame seeds or flax seeds are sprinkled on top before baking.
●

●

●

1 1/2 cups whole wheat flour

●

●

2 teaspoons baking powder

●

1 teaspoon pumpkin pie spice

●

●

●

2 cups granola with raisins

●

●

●

1/2 cup crushed granola or 2 tablespoons sesame seeds or flax seeds
Preheat oven to 400° F. Paper-line 24 muffin cups and spray with non-stick cooking spray or spray 24 muffin cups.
Combine all-purpose and whole-wheat flours, sugar, baking powder, pumpkin pie spice, baking soda and salt in large bowl. Stir in granola. Add pumpkin pie mix, egg substitute and oil in another large bowl. Pour pumpkin mixture into flour mixture; stir until just moistened. Spoon batter into prepared muffin cups. Sprinkle each with crushed granola.
Bake for 15 to 17 minutes or until wooden pick inserted in centers comes out clean. Remove from pans to wire rack; cool slightly. Serve warm or cool to room temperature and place in airtight container.