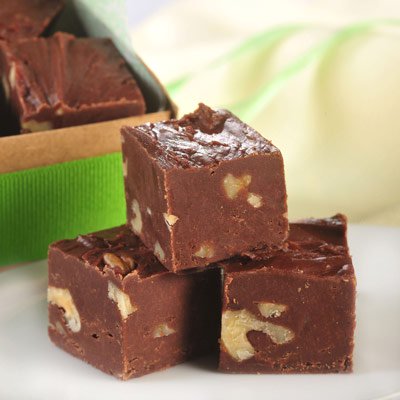 24 servings, 2 pieces per serving
Carnation
NESTLÉ® CARNATION® Famous Fudge Classic Chocolate Fudge Kit
NET WT 31 1/2 OZ (1 LB 15 1/2 OZ) 893 g
1/2 cup chopped walnuts, pecans, peanuts or pistachios
Line 8-inch-square pan with foil. Spray foil lightly with nonstick cooking spray.
Combine Sugar Mix, NESTLÉ® CARNATION® evaporated milk, and butter in medium, heavy-duty saucepan. Bring to a boil over medium-heat, stirring occasionally. Once boiling, stir constantly for 4 minutes. Remove from heat.
Add NESTLÉ® TOLL HOUSE® Semi-Sweet Chocolate Morsels and Marshmallows all at once. Stir vigorously until Morsels and Marshmallows are melted. Stir in nuts.
Immediately pour the mixture into pan; smooth top. Refrigerate for 2 hours or until firm. Store in tightly sealed container or resealable plastic bag.
Before cutting, remove from refrigerator and let stand for 20 minutes. Lift from pan; remove foil. Dip sharp knife into hot water and wipe dry. Cut fudge, wiping clean after each slice and repeat.
Substitute 1 3/4 cups (11.5-oz. pkg.) NESTLE® TOLL HOUSE® Milk Chocolate Morsels for Semi-Sweet Chocolate Morsels.
THERES MORE TO COOK WITH OUR MILKS.