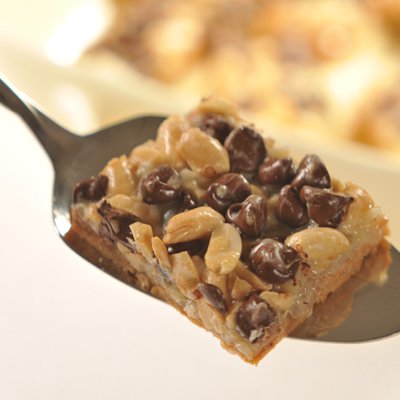 Extra Nutty Chocolate Chip Squares
If you like nuts, you'll go nutty for these chocolate chip squares.
Toll House
Refrigerated Cookie Dough
NESTLÉ® TOLL HOUSE® Chocolate Chip Cookie Dough 16.5 oz
NET WT 16 1/2 oz (1 lb 1/2 oz) 467 g
Toll House
Morsels and Baking Ingredients
NESTLÉ® TOLL HOUSE® Milk Chocolate & Peanut Butter Flavored Morsels 11 oz
NET WT 11 OZ (311 g)
1/2 cup chopped walnuts, peanuts, pecans and/or macadamia nuts
Preheat oven to 350° F. Grease 8-inch-square baking pan.
Place whole bar of dough in prepared pan. Allow to soften for 5 to 10 minutes. Using fingertips, pat dough gently to fill pan.
Bake for 22 to 24 minutes or until golden brown.
Sprinkle morsels over hot cookie. Let stand for 5 minutes or until morsels are shiny; spread evenly. Top with nuts. Cool completely in pan on wire rack. Cut into bars.