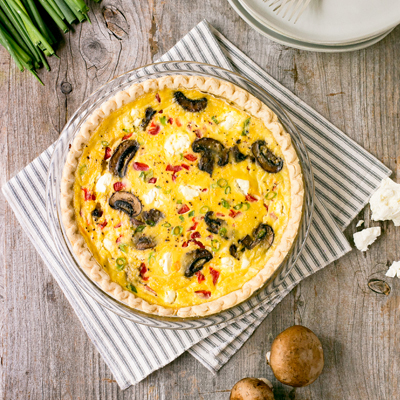 Baby Bella, Roasted Pepper & Feta Quiche
Baby Bella, Roasted Pepper & Feta Quiche
●

●

2 cups (about 4 ounces) sliced mini portabella or cremini mushrooms

●

●

1 cup (4 ounces) shredded provolone cheese

●

1/2 cup jarred, roasted red bell peppers, patted dry and chopped

●

1 unbaked 9-inch (4-cup volume) deep-dish pie shell

●

2 tablespoons all-purpose flour

●

●

Ground or cracked black pepper

●

1/4 cup crumbled feta cheese

●

1 tablespoon sliced green onions
Heat olive oil in large skillet over medium heat. Add mushrooms and onions; cook, stirring frequently, for 5 to 7 minutes or until most of the mushroom liquid has evaporated and onions are translucent. Remove from heat. Stir in roasted peppers. Let cool slightly.
Combine cooked vegetables, provolone cheese, salt and pepper in large bowl. Sprinkle mixture into pie shell.
Whisk together almond milk and flour in large bowl until lumps of flour are gone. Whisk in eggs and season with black pepper, if desired. Pour milk mixture over vegetable and cheese mixture. Sprinkle with feta cheese and green onions.
Bake for 50 minutes or until golden brown and knife inserted near center comes out clean. Cool for 10 minutes before serving.
THERES MORE TO COOK WITH OUR MILKS.